PIEHOLE'S CHRISTMAS MOUNTAIN
is In Collaboration With New Georges!
Piehole's Christmas Mountain—an interactive "advent calendar" window display that features animatronics, embedded videos, and original music on a handcrafted diorama—appeared in December 2022 in the windows of The Greene Space at WNYC and WQXR in SoHo / Hudson Square.
The story of Christmas Mountain unfolded for passersby and viewers online at xmasmountain.com for 21 days, culminating on the Winter Solstice on December 21. (It's still right here if you want to experience it — and you should! Web design by NG affiliated artist ruth tang!)
WNYC radio talk show host Brian Lehrer narrates the story that takes place in a snowy hamlet populated by mice at the base of
Christmas Mountain, which is topped by an antenna that funnels signals from the "Christmas-sphere" into the town and onto the mice's TVs. This year, the signal is on the fritz, and one grumpy mouse–the story's hero–must descend to the center of the mountain to fix it so that the town can fulfill their beloved pastime of watching TV on the Winter Solstice. The clock is ticking! Along the way, our plucky hero encounters adventure at every turn, including a visit to a magical costume shop, a ride with a benevolent bus full of nuns, and broadcasts from an alternate Crust-mas dimension.
In creating this family-friendly installation—which drew inspiration from a range of Christmas traditions throughout history—Piehole brought together the work of over 20 artists from different disciplines, backgrounds and aesthetics, who convey the delightful, layered, incongruous, kitschy, profound and fraught aspects of this seemingly monolithic holiday. In Christmas Mountain, a holiday we think we know becomes a journey into the unknown.
Featured in Time Out's Christmas Windows feature! 
Webby-nominated (Best Net Art)! Christmas Mountain: The Movie coming soon!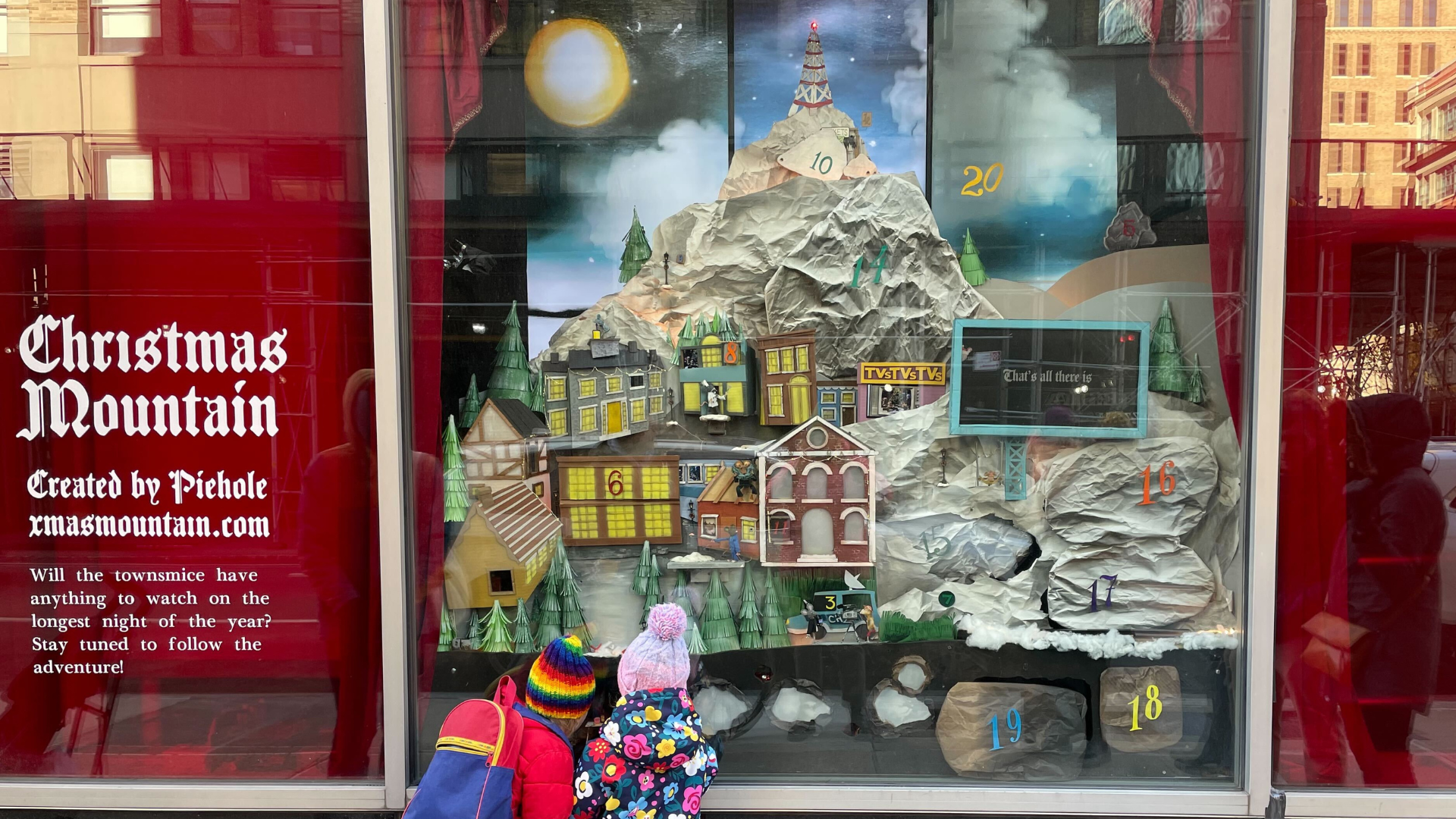 WNYC's The Greene Space Presents
CHRISTMAS MOUNTAIN
Conceived and Created by Piehole
Dedicated to Elliot B. Quick's laugh
STORY BY
Tara Ahmadinejad
Alexandra Panzer
Emilie Soffe
Ben Vigus
Jeff Wood
DIRECTED BY
Tara Ahmadinejad
Alexandra Panzer
Emilie Soffe
Ben Vigus
Jeff Wood
COMMISSIONED ARTISTS
Christmas Magic Show (featured in Episodes 2, 6, 10, and 18): Maiko Kikuchi
Episode 5 and 9: Danny Cannizzaro & Toni Ann DeNoble
Episode 15, 16, and 17: Erma Fiend
CAST
Narrator: Brian Lehrer
Christmas Mouse: Emilie Soffe
Silver Dormouse: Benoit Johnson
Softstocking White: Jeff Wood
Edam Meriweather: Alexandra Panzer
Parliamentarian Spindle: Ben Vigus
Nuns: Toni Ann DeNoble
Lady Vermin: Allison LaPlatney
Gent Vermin: Brendan Crowley
Wooden: Kathryn Wallem
Teaspoon: Alexandra Panzer
Marble: Ben Vigus
Yaldo: Emilie Soffe
Ulbee: Alexandra Panzer
Bweedle & Bwaddle: Jeff Wood
Baby Mouse: Rowan Tong
Original Music: Jason Sigal
Lyrics: Jeff Wood
with "Christmas Socks" written and composed by Allen Riley
Line Producer: Kathryn Wallem
Video Editing (Non-commissioned episodes):
Emilie Soffe, Ben Vigus, Alexandra Panzer
Production Design: Alexandra Panzer
Technical Director: Mitchell Dose
Set Decoration: Alexandra Panzer, Natalie Hill, Sarah Lammer,
Kathryn Wallem, Elise Wunderlich
Animatronics Lead: Kyle "Motor Mouse" Luntz
Animatronics Designers: Sarah Lammer, Jeff Wood
Installation Lighting: Masha Tsimring
Lighting Assistant: Emily Schmit
Lead Creative Technologist: Nick Hussong
Creative Technologists: Nick Chimienti, Jamie Godwin
Systems Integrator, Network Engineer: Steven Blasberg
Sound Design: Ben Vigus, Emilie Soffe, Alexandra Panzer
Installation Sound: Ben Vigus
Installation Vinyl Design: Emilie Soffe
Web Design, XmasMountain.com: ruth tang
Mobile Interface Web Development: Luyang Yang
Research Lead: Allison LaPlatney
Produced by Piehole
in collaboration with New Georges
Associate Producer: Jefferson White