Since kicking it off at The Dakota in 2005, we've held our benefits in the beautiful homes of generous friends. But this year… we sit down to dinner!  In a restaurant, the lovely Houseman, in Hudson Square. 
Why Houseman?  As you may know if you asked about her super food at our past two parties, Houseman sous chef Alycia Harrington is Deadria's sister (and roommate!).  Photos of the Harrington sisters (then and now) and a quick chat with them (insert frequent giggles) below.
Deadria: 
So Alycia, being your sister, I know you've known you've wanted to be a chef since like the 7th grade.
In high school…
Alycia: I cooked dinner for all my friends for prom. I included appetizers for the parents while they were taking pictures, then the two-course dinner with dessert for me and my friends, while also wearing my prom dress!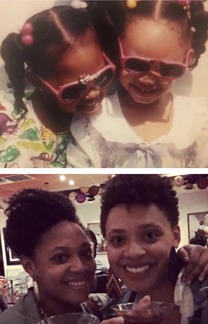 D: It was champagne colored! Talk about Houseman, what are your fave things about the food and the atmosphere and the cocktails and the vibe?
A: All those things are involved and so intertwined. It's this food meant to bring people in and create this convivial environment of togetherness and loosen people up and let things flow. Everything about it, the way our menu is designed, you're going to eat a whole bunch of things together. The menu's very fluid, it changes constantly, that is exciting for me as a cook!  The food is always cooked well, but it's always a little bit different, it's going to surprise you. So your old favorite may change just a little and become your new favorite!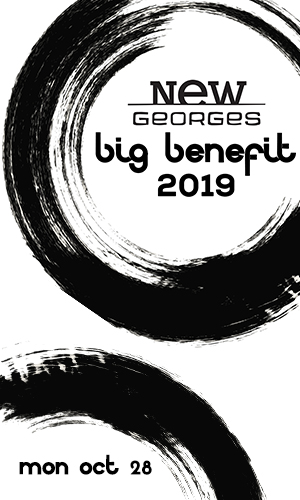 D: I'll never forget the first time I went to Houseman. Because before, you worked at Dirt Candy, an all-vegetable restaurant. Amazing and delicious. However! I went to Houseman, I sat down at the bar, I ordered the chicken, and it was so good. And I said, Alycia, I'm so glad you're cooking at a restaurant that serves meat!  Y'all also have really great cocktails. What is the secret shift drink that you all like?
A: We're pretty open to changing them, right now there's a blackberry thing because we have a whole bunch of blackberries in-house.  I'm a big wine drinker at the end of the night.  We have a lot of natural wines which are fun to drink.
D: It sounds like — and this is what I think is great about hosting our benefit there — like our vibes and ethos are pretty similar, this collaborative, creative process that's really about: who are the people around us creating the things, what are the foods that are in season, just creating the space for folks to really build something.
A: That's how we approach any event: what are you guys about, how do we combine these ideas and vibes together to create an experience. We always have a theme.