Yes, yes, yes!!  ISLANDER is a participant in New Georges' Supported Productions program, in which we provide resources, mentorship and an institutional platform to affiliated artists producing their work independently — and was generated in our Audrey Residency program, too (our residency group went to a hockey game together, that was a first!). Go see it!
---
ISLANDER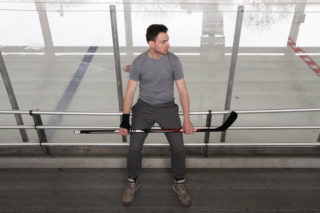 compiled by Liza Birkenmeier
directed by Katie Brook
a Televiolet Production
a New Georges Supported Production
March 24, 2020 – April 12, 2020
The 2017-2018 NHL season was an embarrassment for the New York Islanders. Displaced from their home rink and in danger of losing their captain, they never made it to the playoffs.
In ISLANDER, Playwright Liza Birkenmeier and director Katie Brook (DR. RIDE'S AMERICAN BEACH HOUSE) repurpose commentary from this abysmal season to explore the crisis of the team as the crisis of white male American identity.
ISLANDER was developed in New Georges' Audrey Residency program!
More info to come.  Meanwhile, follow @IslanderPlay on Twitter (it's a gas!) to see how the sports people are responding, and buy tickets here!